Men's Club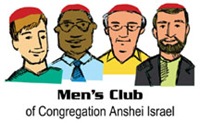 Men's Club is all about service to the synagogue, making new friends, participating in learning opportunities, leadership training and so much more. Whether you have time to be actively involved or to help us occasionally with our programs, you are needed.
Complimentary first year membership; thereafter annual membership is $40.
Click here for a Membership Form.
For more information about CAI's Men's Club, please contact Mark Levine.
Just a few of our programs:
• Monthly Breakfast Meetings with engaging speakers
• Helping with a variety of Synagogue events
• "World Wide Wrap" teaching the mitzvah of wrapping teffilin
• Men's Club Shabbat
• Organizing the Yom Hashoah Yellow Candles campaign
• Organizing & cooking for Veterans' event
DATE
EVENT
(Also please check the Events Calendar for details.)
Oct. 8, 2017
Breakfast with Religious School in the Sukkah
Nov. 12
Veterans' Lunch, 12:00pm
Jan. 21, 2018
Breakfast Meeting, 9:30am
Guest speaker Douglas "Lev" Ettelson will present, "An Encounter with Hasidism."
Drawing from personal experience, he will share teachings and songs,
and reflect on the changing nature of Hasidism.
Feb. 18
"World Wide Wrap" Tefillin Workshop with Religious School, 9:30am
Men's Club will join the 4th, 5th and 6th Graders in Religious School to show them
how to wrap tefillin in conjunction with the Federation of Jewish Men's Clubs'
nnual "World Wide Wrap." As a culmination of their shema unit,
students will present their own symbols of their relationship with God.
Enjoy our delicious breakfast buffet.
No charge for Men's Club members; guests welcome for $4.
Mar. 11
Breakfast Meeting
Apr. 15
Breakfast Meeting