Men's Club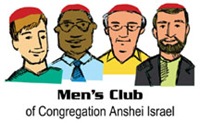 Men's Club is all about service to the synagogue, making new friends, participating in learning opportunities, leadership training and so much more. Whether you have time to be actively involved or to help us occasionally with our programs, you are needed.
Complimentary first year membership; thereafter annual membership is $40.
Click here for a Membership Form.
For more information about CAI's Men's Club, please contact Mark Levine.
Just a few of our programs:
• Monthly Breakfast Meetings with engaging speakers
• "World Wide Wrap" teaching the mitzvah of wrapping teffilin
• Men's Club Shabbat
• Sponsoring the food booth at CAI's "Purim Pandemonium" Carnival
• Helping with CAI's "Keep on Truckin'" Family Festival
• Organizing the Yom Hashoah Yellow Candles campaign
• Hiking and bike riding during cooler months of the year (October-April)
2012
October

21
9:30am
Guest speaker Bob Cohen will present, "Do Good Fences Make Good Neighbors? The Dilemma of Jews in America."

November

18
9:30am

Breakfast Meeting

December

2
9:30am
Guest speaker Dr. Farid Gharagozloo, an internationally recognized thoracic surgeon with expertise in minimally invasive and robot-assisted procedures with the University of Arizona's Department of Surgery. As professor and chief of the Section of Thoracic Surgery, Dr. Gharagozloo is a world expert in the fields of robotic surgery, esophageal surgery and thoracic oncologic surgery. Dr. Gharagozloo leads the University of Arizona Thoracic Oncology Program, which combines lung-cancer screening and advanced robotic surgery for early-stage disease as part of multi-modality therapy for lung cancer.

2013
January

13
9:30am
Guest speaker Dr. Mitchell Sokoloff is Professor of Surgery and Chief of Urology at The University of Arizona College of Medicine. Internationally known for his contributions to the surgical treatment of prostate, kidney, and testis cancers, Dr. Sokoloff will speak about the use of robotics in treating these cancers.

February

3
9:30am
"World Wide Wrap" and Breakfast


All men and their children of Bar or Bat Mitzvah age are invited for the annual World Wide Wrap to learn how to wear tefillin. Please bring your own tefillin if you own a set. A short movie about how to put on tefillin will be shown, followed by hands-on time to practice. Rabbi Robert Eisen will have a tefillin completely taken apart so everyone can see the prayers on the parchment paper.

March

10
9:30am
Guest speaker Jim DeGrood, Transportation Services Director of the Regional Transportation Authority with the Pima Association of Governments will present, "Transportation Plans for Tucson's Future." Includes breakfast buffet. No charge for Men's Club members; guests $4.
16
5:30 pm
Epstein Chapel
Men's Club Shabbat
Members of Men's Club will help daven Shabbat Mincha, Ma'ariv and Havdallah Services. We ask that all current and potential Men's Club members participate. Men's Club is also sponsoring the Third Meal that evening. Please join us!

April

21
Guest speaker John Evans, U.S. Attorney with the District of Arizona will discuss identity theft, investment fraud and elder care abuse.

May

19
Guest speaker Dr. Howard Schwartz will discuss medical ethics in today's world of medicine & how Jewish ethics play a role.
More classes and events to be added to the 2012-13 calendar. For more information, contact Mark Levine.