Living (Y)Our Judaism Together: Felicia Cohen & Family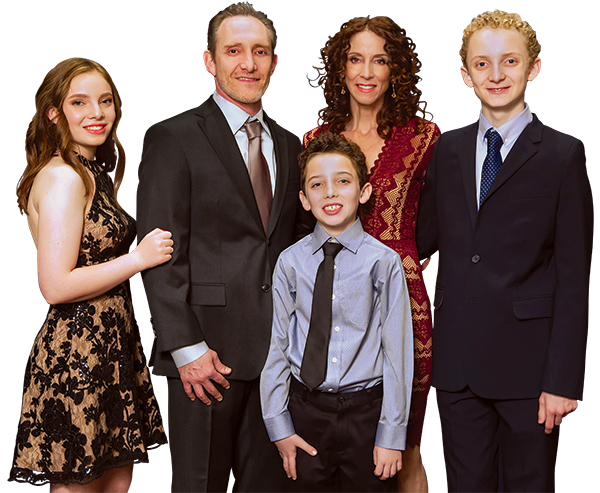 I'm Felicia Cohen and this is how my family and I live our Judaism…
To our family, living Jewishly means living with a certain cultural heritage in mind. It means maintaining rituals and traditions that have been passed down over thousands of years. It means having a good moral center and treating others with kindness and respect and being tolerant of all different people. It means living to promote peace among all different people in society.
When we first moved to Tucson 16 years ago, Ari and I sought out a Jewish community where we could raise our children with the Jewish values, traditions and culture that we grew up with. We both grew up attending conservative synagogues in Dallas. We both had our bar/bat mitzvah ceremonies in Israel. As teens, we were both involved in BBYO and Hebrew High. And, as adults, we both knew that we wanted to belong to a conservative congregation, where we could meet and connect with others who shared our values. So we chose Congregation Anshei Israel
All three of our kids – Katya, Ethan and Liam – went to CAI preschool. The teachers did a beautiful job teaching the history, culture and rituals of Judaism, while making it fun and age appropriate. Our children continued with Religious School, which enabled them to develop a deeper love, appreciation and connection to Judaism. USY, the synagogue's youth group, has also been a big part of their lives, fostering friendships with peers they may not have met any other way. It's provided them with opportunities to volunteer in the community, including visits to Handmaker where they spend time with the residents, and participating in crafts related to the Jewish holidays. All of these experiences have reinforced the values of Tikkun Olam – repairing the world through acts of kindness, charitable giving and helping others.
By far, our most meaningful experiences have been Katya and Ethan becoming a bat and bar mitzvah at CAI. Watching them go through the journey to accomplish this goal was one of the most beautiful memories I will ever have. Being guided by cantorial soloist Nichole Chorny and Rabbi Eisen every step of the way was one of the greatest gifts CAI could have given us.
Knowing the history and stories passed down to us through our parents has inspired us to live Jewishly. Knowing that Judaic teachings promote tolerance and peace also motivates us to maintain those traditions. Congregation Anshei Israel provides the framework for our family to learn and live our Judaism.
What's your story?