Living (Y)Our Judaism Together: Charlotte Bregman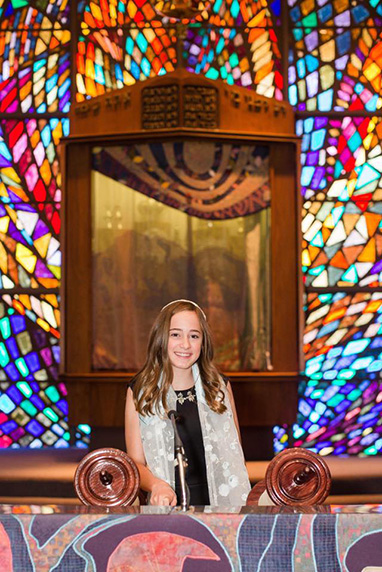 I'm Charlotte, and this is how I live my Judaism…
When I was a little girl, I would run up on the Bima during Saturday morning services and jump in my father's lap, as he represented the synagogue's board of trustees. I recently celebrated becoming a bat mitzvah, and found myself standing up on the same Bima, in front of the same congregation, celebrating my journey toward becoming a Jewish adult. This reminded me of how the congregation has been watching me grow into the person I am today. And while I worked very hard to prepare for this day, I did not do it alone.
Becoming a bat mitzvah was a huge step in my life, because it meant that I am becoing more and more responsible for how I live my life. Now that I am a Jewish adult, I want to do more Mitzvot. I am now expected to act a certain way and I have more weight to carry on my shoulders.
As I continue my journey through life and into adulthood, I want to set a good example of what it means to live life as a Jew. Will I be perfect? Will I never make a mistake? Hardly. However, what this journey has taught me, so far, is how important it is to try to make the most of every opportunity that is mine to have; to make the best of whatever comes my way.
I am already trying to make this happen by doing my part to make the world a better place. For my bat mitzvah project, I volunteered at Pima Animal Care Center and participated in CAI's Gilo Twinning Project. Having visited with our sister congregation when I was in Israel three years ago, I know how much our support means to the members of Kehilat Shevet Achim, in this suburb of Jerusalem. And I recognize, even more, how important it is to be connected to the Land of Israel and our people.
This is how I am living my Judaism with my community, Congregation Anshei Israel.
What's your story?