MITZVAH 613 Torah Project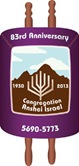 Congregation Anshei Israel has commissioned the creation of a new Torah as part of a year-long celebration of its 83rd anniversary. A kick-off event, MITZVAH 613 TORAH FAIR, was held on Sunday, December 16, 2012, to allow all to participate in the fulfillment of the 613 Commandment by sharing with others in the creation of a new Torah. Our Israeli scribe, Zerach Greenfield, demonstrated the writing of a Torah and answered questions. Learning stations included: "Bima-phobia," to learn about opening and closing of the Ark and other honors on the bimah; a family art project to create an image of a Torah scroll and their family tree; and another art project to make an artistic, stylized sign of one's Hebrew name. After breakfast, the fair concluded with a Torah being completely unrolled and the children encircled by it. Click here to view photos from the event.
One of the spiritual duties of Judaism is that each Jew, in his or her lifetime, write a Torah in order to preserve the heritage of our ancestors. Since this is probably impractical for most individuals, the Talmud allows us to fulfill the mitzvah by sharing with others in the creation of a new Torah. Our MITZVAH 613 Torah Project is an opportunity to participate in a great mitzvah! Have you fulfilled MITZVAH 613? Click here to read about some people who already have…
Click here to see a list of Dedication Opportunities so that you and your family can be a part of this exciting, once-in-a-lifetime event. The dedications listed provide a variety of opportunities to honor or memorialize in perpetuity Jewish life-cycle events such as a birth, Bar or Bat Mitzvah, special birthday, wedding and anniversary, special achievement/honor, or the loss of a loved one.
Should you need guidance for you or your family to help select an appropriate and meaningful dedication, please contact Clergy Secretary, Michelle, or call her at 520-745-5550, ext. 225.
All dedications will be published in a MITZVAH 613 Commemorative Book that will become a part of our congregation's history.
Other celebratory events will be held throughout the year, with a Torah Project Siyum to be held on Sunday, December 8, 2013, to showcase the completion of the new Torah.