Women's League/Sisterhood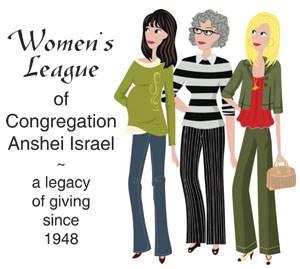 Women's League is an inter-generational organization where members can meet some incredible
ladies, feel good about helping others, and have great learning and social opportunities -
all while financially supporting the youth of our synagogue and perpetuating Conservative Judaism.
We encourage a sense of belonging and offer a variety of programs. New synagogue members are
entitled to a one year free membership; otherwise, annual membership is $36. Apply now!
For more information about CAI's Women's League/Sisterhood, please contact Evelyn Sigafus.
Paid members enjoy:
Making friends and socializing with other women
Delicious lunches with entertaining speakers
Thought-provoking Torah study and other enjoyable and educational classes
"Read It & Meet" Book Discussions
Charity knitting
Delicious and informative cooking classes
Relaxing/invigorating chair yoga
Performing mitzvot through social action activities
10% Discount in the Judaica Gift Shop
Raising money for the Preschool/Kindergarten, Religious School and USY
E-blasts
Ongoing: Women's Study Group July thru December 2014
Ongoing: "Gentle Yoga Plus" – Wednesdays, 9:30–10:30am
Instructor Lois Graham focuses on increased balance, strength and flexibility in a supportive group setting. Meditation and deep relaxation at end of each class leaves participants with positive healing energy and uplifted spirits. Dress comfortably. For more information, contact Rayna.
2014
July

9

"SWEET" Lunch, 12:15pm
All Jewish women 18+ are invited to share a "SWEET" lunch (Sexy Women Eating Elegantly Together) at Trattoria Pina, 5541 N. Swan (near Sunrise). Trattoria Pina has excellent Italian fare with several vegetarian options. Join us to share some laughter, delicious food and good company. "Dutch treat." RSVP by July 6 to Evelyn.

August
27

"SWEET" Lunch, 12:15pm
All Jewish women 18+ are invited to share a "SWEET" lunch (Sexy Women Eating Elegantly Together). Location TBD.

October
15
Paid-up Membership Lunch in CAI's sukkah
2015
January
24
Women's League Shabbat
Members of CAI's women's group lead the Shabbat morning service and sponsor the kiddush.
March
22

Brunch & Fashion Show
More classes and events will be added to the calendar as they become available. For more information, contact Evelyn Sigafus.
The Women's League Judaica Gift Shop, located within the administrative wing of CAI, is well-known for its wide array of Judaica, both traditional and whimsical. A wonderful selection of cards, gifts, ritual items, invitations, books, games and jewelry is available for all occasions. All proceeds from Gift Shop sales enables Women's League to support our preschool/kindergarten, religious school, USY, college outreach, and other youth activities.