HAZAK: Wisdom – For those 60+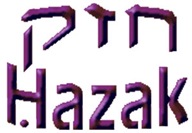 Called HAZAK — an acronym of wisdom, maturity and looking ahead — this program offers opportunities to continue to learn and be active in your congregation, your community and among your peers. It's time for you … time for learning, entertainment and socializing!
For more information about future events and how to become involved,
contact Rabbi Robert Eisen.