HAZAK: Wisdom – For those 60+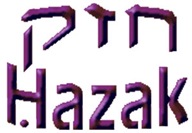 Called HAZAK — an acronym of wisdom, maturity and looking ahead — this program offers opportunities to continue to learn and be active in your congregation, your community and among your peers. It's time for you … time for learning, entertainment and socializing!
More events will be added to the calendar as information becomes available.
For more information, contact Linda Roy.
2012 November

8
6:30 – 8:30pm


Two-part Discussion Group




Lee Chutkow will lead a discussion, "Jews and Judaism: Past, Present and Future," based on two recent articles in

Moment Magazine

and

Commentary Magazine

dealing with changes and challenges our larger Jewish community faces in the 21st century.




There is no charge to attend. Refreshments will be served.

2013 February

3
SOLD OUT! 2:00pm


"The Chosen" at Live Theatre Workshop (5317 E. Speedway)




A standing-room-only hit wherever it has played, this award-winning adaptation from the award-winning novel by Chaim Potok is the story of two boys, two fathers, and two very different Jewish communities in Williamsburgh, Brooklyn, in the 1940s.

CAI's Rabbi Robert Eisen will lead a post-play discussion for the audience.




$16 per person, only 28 seats available! RSVP needed by Jan. 21. Contact

Linda

for details.

March
7

3:00pm at the University of Arizona Health Sciences Library, 1501 N. Campbell (enter thru UMC main doors)
"Deadly Medicine: Creating the Master Race" is an exhibit that traces the history of the early 20th-century international eugenics movement to the Nazi regime's "science of race." From 1933 to 1945, Nazi Germany carried out a campaign to "cleanse" German society of people viewed as biological threats to the nation's "health." Enlisting the help of physicians and medically trained geneticists, psychiatrists, and anthropologists, the Nazis developed racial health policies that started with the mass sterilization of "hereditarily diseased" persons and ended with the near annihilation of European Jewry. Exhibit produced by the United States Holocaust Memorial Museum. No charge; docent-led. Free valet parking with handicapped parking permit. Contact Linda for details.

21

2:00pm at The Temple of Music and Art, 330 S. Scott Ave.
Join us for the Arizona Theatre Company's production of Neil Simon's "The Sunshine Boys," a comic masterpiece about growing old, comedy partners struggle with reconciliation, grudges and resentment. ONLY 16 tickets available! $30 per person. RSVP by March 19 to Linda. Don't miss it!

July
28

7:00pm Join us as part of CAI's FREE Summer Film Series.
Everything is Illuminated (1 hr. 45 mins.)

October
20

4:00pm "The Life and Comedy of Allan Sherman"
Join us as Dr. Lee Chutkow discusses the man behind the parodies, his music (recordings will be played), and the biography of Allan Sherman, "Overweight Sensation." Sherman was an American comedy writer and television producer who became famous as a song parodist in the early 1960s. His biggest hit single was "Hello Muddah, Hello Fadduh," a comic novelty in which a boy describes his summer camp experiences. He was manic, a bacchanalian, and a hugely creative artist who sold three million albums in just 12 months, yet died in obscurity a decade later at the age of 49. Click here for flyer.
There is no charge to attend. Refreshments will be served.

January
5
4:00pm "Mindsharp" with guest speaker Mimi Furst
Learn fun, intriguing ways to keep your mind alert and growing. Strengthen your creative thinking and keep those neurons firing. Laughter and learning guaranteed!


There is no charge to attend. Refreshments will be served.

February
23
3:00pm at Live Theatre Workshop (5317 E. Speedway) Click here

for flyer


"Photograph 51" is the true story of Jewish scientist Rosalind Franklin and her X-ray imaging that revealed DNA's double helix structure, leading to a Nobel Prize … but not for her. Relive the competitive chase to be the first to map the DNA molecule in this riveting story of a young, ambitious scientist and her unsung, trailblazing achievements. $15 per person; seating limited. RSVP & payment due by Feb. 17

to

Linda

.