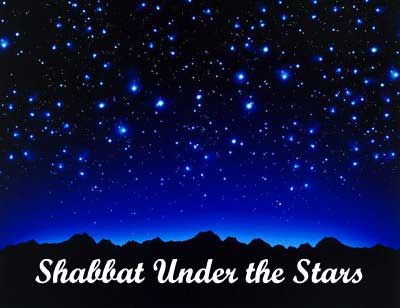 Family Shabbat Experience Service "Under the Stars" & Dinner
Friday, Oct. 19, service 5:45pm, dinner 7:00pm
The opportunity to worship outside reminds us that any space can become sacred through the manner in which we use it. Help us expand our "worship zone" in an intimate service on the Rabbi Oleisky Courtyard led by Rabbi Robert Eisen and Cantorial Soloist Nichole Chorny. With our families, we'll welcome Shabbat with rhythm, movement, ruach (spirit) and song, followed by Shabbat dinner and Open Lounge in the Linda Roy Youth Center with games and fun. Dinner $25 per family (two adults & up to 4 children) for CAI members; guest family $30; adults (13+) $10 per person. RSVP needed by Oct. 15.