Holiday Information
PASSOVER at CAI…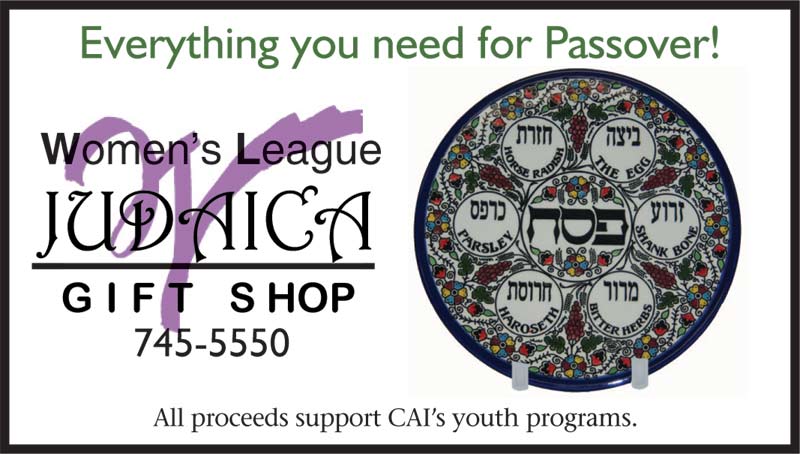 "Matza and More" Passover Food Drive – thru Mar. 22
Donations of matza, other kosher-for-Passover food items & monetary donations to benefit Jewish Family & Children's Service are requested in this drive coordinated by CAI's Religious School. Please bring items to the marked box in the Lynne Falkow-Strauss Foyer outside the administrative office.
Ma'ot Hittim
We do tzedakah (charity) when we help the poor and those who cannot help themselves. Right after the holiday of Purim, synagogues begin collecting tzedakah for the holiday of Pesah. This special tzedakah donation is called Ma'ot Hittim, (money for wheat). Years ago, Ma'ot Hittim was used to buy wheat and, this wheat was baked into matzah for poor people. Jews preparing to celebrate Pesah have always been concerned that everyone in the Jewish community be able to do so. Ma'ot Hittim are the special funds used to buy Passover supplies for those who need them, so that no one is deprived of a Seder because of economic difficulty. You can make a contribution to the Ma'ot Hittim Fund for this purpose, and help people here and in Israel. Please make your check payable to: Congregation Anshei Israel, ATTN: Ma'ot Hittim Fund and mail it to 5550 E. 5th St., Tucson, AZ 85711.
Seder Heder: Adult Studies Kollel & Haroset Tasting – Wednesday, Mar. 21, 7:00-8:30pm
Participate in three rotating "mini" classes, followed by haroset tasting. (Each 20-minute class taught only once.)
Rabbi Robert Eisen presents "Insights into the Haggadah"
Cantorial Soloist Nichole Chorny presents "Hallel: The Song of the Seder"
Rabbi Ruven Barkan presents "Telling the Story as an Act of Redemption, Then and Now"
Admission (bring to class): One box of matza per family for the "Matza & More" Passover Food Drive to benefit Jewish Family & Children's Services. Please RSVP by Mar. 19 to the Clergy Assistant.
NEW! Passover Painting Party – Sunday, Mar. 25, 2:00-4:00pm
Join us to paint a Miriam and/or Elijah wine glass. Fun for ages 6+! We'll provide two wine glasses to paint (keep both or give one as a gift!), apron, brushes, paints and professional instruction led by Arte Bella Painting. No need to be an accomplished artist… you'll receive guidance through every step in a relaxing & fun atmosphere. Refreshments served. $36 per person. RSVP a must by Mar. 20.
Sweet Tomatoes "FUN-raiser" – Thursday, Mar. 29, 4:00-8:00pm
Where are you taking your family for your last bit of hametz before Passover? Meet us at Sweet Tomatoes (6202 E. Broadway at Wilmot) for Fun-Raiser Night! Sweet Tomatoes will donate 20% of sales generated by Congregation Anshei Israel when diners present a special flyer. Each flyer is good for everyone in your party … bring your friends and family! (Certain restrictions apply.)
Mechirat Hametz: Selling of Hametz
According to the Torah, Jews may neither eat nor own hametz (leavened) foods during the week of Passover. Many hametz foods can be disposed of prior to Pesah, but some cannot without significant loss. This problem can be resolved by selling, according to an ancient formula, any hametz foods to a non-Jew, who is not obliged to observe the holiday. The hametz is sold with the understanding that the seller will not partake of it during the week of Pesah. The hametz technically becomes the property of the non-Jew. However, it remains on the seller's property, usually in a designated corner of the house or garage "rented" to the non-Jew. The hametz is repurchased immediately after Pesah for your continued use. Rabbi Robert Eisen will accept responsibility for instituting the transaction and for repurchasing the hametz after Pesah for your use. Please complete this form and return it to the synagogue before Friday, March 30.
Preschool/Kindergarten Closed – March 30 – April 6 in observance of Passover.
Administrative Office & Gift Shop Closed – Sunday, Apr. 1 in observance of Passover. (no Religious School)
Administrative Office & Gift Shop Closed – Friday, Apr. 6 in observance of Passover.
Passover Schedule of Services
Friday, March 30 – Erev Passover
Morning Minyan with Siyum for First Born 7:00am
Mincha, Erev Shabbat & Festival Service 5:45pm
Saturday, March 31 – 1st Day Passover (Shabbat)
Shacharit Service 9:00am
Mincha Service 12:30pm
Ma'ariv Service 6:30pm
Second Night Seder (RSVP required; see below) 7:00pm
Saturday, March 31 – 2nd Night Passover
Second Night Passover Seder
Ma'ariv 6:30pm; seder begins promptly at 7:00pm
More information and RSVP here.
Sunday, April 1 – 2nd Day Passover
Shacharit Service 9:00am
Mincha/Ma'ariv Service 7:10pm
Monday, April 2 – 3rd Day Passover
Morning Minyan 7:15am
Mincha/Ma'ariv Service 5:30pm
Tuesday, April 3 – 4th Day Passover
Morning Minyan 7:15am
Mincha/Ma'ariv Service 5:30pm
Wednesday, April 4 – 5th Day Passover
Morning Minyan 7:15am
Mincha/Ma'ariv Service 5:30pm
Thursday, April 5 – 6th Day Passover
Morning Minyan 7:15am
Mincha/Ma'ariv Service 5:30pm
Friday, April 6 – 7th Day Passover
Shacharit Service 9:00am
Mincha/Kabbalat Shabbat Service 5:45pm
Saturday, April 7 – 8th Day Passover (Shabbat)
Shacharit Service/Yizkor 9:00am
Mincha/3rd Meal/Ma'ariv/Havdallah Service 5:45pm